Financing Urbanization Panel at UN-Habitat General Assembly
At the first UN-Habitat General Assembly, several side-events and panels were organized including Financing Urbanization which was organized by Urban Economy and Finance Branch of UN-Habitat. In this panel, experts from urban economy and municipal finance participated to address the core areas in this regard. Reza Pourvaziry, UN-Habitat Global Advocate and President of ICL, delivered a speech in abstentia in this session.
His speech can be found below:
Urban Economy deserves special attention as it is of utmost significance in three scopes.
1. If Urban economy is functioning well according to New Urban Agenda and Sustainable Development Goals, we can expect to see that executive sector moves well too. Urban Economy is a core approach to sustainable urban development. When we talk about how financial resources of a city are set up, we are actually talking about to what principles the city is committed and to what extent. It is a strategic issue for cities. Perhaps, prior to discussing any plans for urban development, it is imperative to first focus on urban economy and to come up with a correct solution in accordance with latest visions like SDGs and NUA.
2. Urban Economy and Municipal Finance is an interdisciplinary subject matter involving development matters. It affects development matters and gets affected by them as well. It is the vital component of the development engine. Urban Economy is genuinely and practically engaged in urban lives and urban management issues and is the output of the actions taken by urban management. Thus, it is a highly contextual matter and many development matters are irrelevant to context but Urban Economy is closely interwoven with organism of urban context. It can be deducted that any changes in urban economy could bring changes in urban management approaches and vice versa. It is highly related to the quality of life. It is a fundamental subject matter and many other matters are being influenced by it.
3. Innovation plays an important role in creating correct economic models. Urban development programs are usually project-oriented. In other words, it is the projects that define the approaches. However, urban Economy is about approaches and plans. The work space of municipalities is project-oriented instead of being plan-oriented. Therefore, a comprehensive plan must be devised to shape these programs worldwide so municipalities could make use of them. It is exactly the role of UN-Habitat who can define a special innovation on urban economy which can be formed based on technology. This initiative can include small cities, towns or parts of a city. According to new technologies, it is important to come up with a precise assessment of the city to determine the credit of each city, so we can think of sustainability of resources and find proper algorithms which can give the true assessment of the city in relation to the country's economy and local capacities. It requires a good planning and networking so cities can participate in this innovation. They will have a clear picture of their incomes and expenditures and then turn their capacities into economically valuable assets presentable to banks and financiers.
These must be guided to projects which are core to the economy of the city. It is, therefore, imperative to establish a dialogue between the two major stakeholders i.e. municipalities and banks. Therefore, I would like to announce that we have planned to organize a conference entitled "World Congress on Urban Economy and Municipal Finance" under Urban Economy Forum and in cooperation with UN-Habitat on the occasion of World Cities Day on 30-31 October, 2019 in Toronto, Canada. It is going to be based on a handbook titled "Urban Economy for City Leaders" which is in alignment with our previous cooperation with UN-Habitat for the handbook titled "Finance for City Leaders". We need to address urban economy in a collective way and UN-Habitat shall be steering it and urge countries to allocate specific budgets for obtaining clear city assessments. The approach must be to make changes to ensure a sustainable urban economy for the realization of sustainable development goals and to start joint activities with banks and financial institutions. It is a very important step to create a world effective network. We can consider World Economic Forum as the best for this initiative in urban field.
I would like to take this chance to encourage your participation in this conference. Also, we would like to establish the International City Leaders Impact Fund and the World Mayoral Pavilion on Urban Economy as the final outputs of this conference and to launch them at WUF10 in Abu Dhabi. Your participation is highly encouraged. Lastly, urban Economy is not only an element of sustainable urban development but also it is its core component and there would not be any other alternatives to realize sustainable development without paying attention to urban economy.
Thank you very much for your attention
ICL Hosted 1st EGM for WCR 2020
The First Expert Group Meeting for the World Cities Report 2020 was held at UN Campus in Geneva during 7 and 8, May, 2019. The main aim of the EGM was to review and develop the theme and content of the next WCR 2020 titled: The Value of Sustainable Urbanization. The EGM provided a platform for dialogue and debate on the theme of the WCR 2020, with UN-Habitat staff members and external experts from different regions of the world serving as facilitators and discussants for the proposed chapters of the Report.
The Next EGM will be organized in Kavala in association with ICL, MOHA Research Center and the Municipality of Kavala during early September.
For more information, please look at https://unhabitat.org/first-expert-group-meeting-world-cities-report-2020-the-value-of-sustainable-urbanization-may-7-8-2019-geneva-switzerland/.
ICL Launched Specialized Courses on NUA and Municipal Finance
October, 2019, ICL has launched specialized and technical courses on New Urban Agenda and Municipal Finance in collaboration with academic centers and colleges based in Toronto in October, 2018. It is planning to arrange and hold these courses in 2019. These courses are mainly intended for stakeholders engaged in actual activities of urban management.
Platform for Urban Economy and Municipal Finance Established in Turkey
UN-Habitat and International City Leaders in collaboration with UCLG-MEWA formed the Platform for Urban Economy and Municipal Finance was formed and its first session was held in Istanbul, Turkey at UCLG-MEWA on June 9, 2018. This platform is in fact the actual implementation of UN-Habitat Global Municipal Finance Programme. Its High-Ranking Council is composed of 9 members as of now.
Preliminary Session Held to Form Platform for Urban Economy and Municipal Finance
During 28 and 29 December, 2017, preliminary sessions were held for the establishment of International City Leaders Platform for Urban Economy and Municipal Finance in Geneva, Switzerland. Considering the importance of municipal finance, it is imperative to have a technical organization in this regard and based on the Global Municipal Finance Programme approved by UN-Habitat, a platform has been decided to be formed to implement this program globally. To this end, a group of experts convened in Geneva by the very end of 2017 to envision the actual future steps for the formation of International City Leaders Platform for Municipal Finance and Urban Economy.
December 28, 2017: Preliminary Meeting on the Establishment ICLP
A preliminary meeting took place to discuss the conditions and the next executive steps for the formation of the International City Leaders Platform for Municipal Finance and Urban Economy (ICLP) in in Geneva School of Diplomacy and International Relations
Mr.Kamali Dehghan as the Urban Economy Director of ICL participated in this meeting along with Dr. Rajinder Jhol and Dr. Philip Weights, head of Steering Committee for Municipal Finance and Urban Economy Program. This meeting took place on 28 and 29 of December, 2017 in Switzerland.
As a result, a draft was finalized for the structure of this platform. It was agreed that the Geneva School of Diplomacy and International Relations be considered a major partner for this program. Also, some individuals were introduced and approved as the members of the Platform.
It was agreed that the office of ICLP be located in Istanbul, Turkey and the first session of ICLP be held during June 2018 in Turkey.
This platform is an ambitious development innovation built upon UN-Habitat's Global Municipal Finance Program (GMFP) which has been established in Istanbul in collaboration with UCLG-MEWA. The main objective of ICLP is to focus on economic and financial discourse in the area of cities to ensure sustainable urban development and economic prosperity within cities.
Finance for City Leaders 2nd Edition Published
Given its importance in the urban development of the contemporary cities, the Second Edition of Finance for City Leaders Handbook was published on 9 April, 2018 in Nairobi.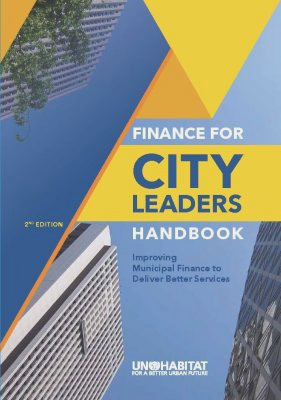 ICL Participates in 26th Session of Governing Council
During 8th until 12th of May, 2017, the 26th session of UN-Habitat Governing Council was held in Nairobi, Kenya. Reza Pourvaziry participated in this session to reassure its commitment to UN-Habitat programs. The Governing Council serves as the decision-making body for the UN Human Settlements Programme. The GC meets biennially and reports to the UN General Assembly through the UN Economic and Social Council.
Finance for City Leaders Launched
On 10 December 2016, "Finance for City Leaders Handbook" was officially launched. This handbook has been prepared by UN-Habitat in collaboration with ICL and University of Oxford. It emphasizes the importance of municipal finance for the implementation of the New Urban Agenda (NUA) and Sustainable Development Goals (SDGs) in order to make cities and communities safer, more inclusive, more resilient and more sustainable.
ICL, UN-Habitat Holds Joint Expo in Quito
In October 2016, ICL and UN-Habitat arranged a joint exhibition in Kyoto on the sideline of Habitat III which marked 40 years of promoting inclusive, safe, resilient and sustainable human settlements.
In this event, UN-Habitat appreciated Reza Pourvaziry's activities through an official letter and formally announced him as the first UN-Habitat Global Advocate.
Reza Pourvaziry Appointed as 1st UN-Habitat Global Advocate
August 25 2016, Nairobi Kenya, in recognition of the significant contributions made to the work of UN-Habitat, Mr. Reza Pourvaziry was officially appointed as the first UN-Habitat Global Advocate at UN-Habitat Headquarters. These roles are designated to prominent individuals who have expressed desire and commitment to uphold and observe the vision and spirit of the United Nations Charter in general and to promote UN-Habitat's mandate both nationally and internationally.
In this role, Mr. Pourvaziry will serve as a primary catalyst for helping UN-Habitat build critical partnerships at both national and global levels that will enable the agency to increase its visibility and generate support for its mission while attracting more resources for the implementation of its activities.
In this position, he will be responsible for advocating for the New Urban Agenda and UN-Habitat's work in the promotion of sustainable urbanization and human settlements and the urban dimension of the SDGs. Information, advice and support to UN-Habitat partners and other stakeholders of the positive contributions that UN-Habitat is making in the lives of people in the different countries where it is intervening will also be expected.
An important part of this role will also involve meeting with key UN-Habitat partners such as government officials, private sector representatives and other entities to advocate for UN-Habitat's work and promote its mandate. The Global Advocate will also participate at various special events and other activities in order to galvanize support and promote UN-Habitat's policies, projects and actions/programmes, as well as all UN-Habitat initiatives.
Mr. Pourvaziry has demonstrated a strong commitment to the urban agenda globally and has extensive experience in raising awareness on the urban agenda. For these reasons, he will be a compelling and eloquent advocate in focusing attention on these related issues, and will help the UN-Habitat mandate by sending a powerful message that will reach the hearts and minds of people throughout the World.
17-20 OCTOBER 2016: ICL PARTICIPATION AT HABITAT III AT SPOTLIGHT
Joint ICL and UN-Habitat booth at Habitat III proves a success among other ICL activities in Quito on 17-20 October 2016. The booth also celebrated UN-Habitat's 40th anniversary and attracted visitors and national delegates throughout this major global urban event. Click here to read more.
Meeting on Greener Cities Partnership
Mr. Kamali Dehghan as the director of Urban Economy of ICL held a meeting with Ms. Isabel Wetzel, Coordinating Director for Greener Cities Partnership and and Dr. Eduardo Lopez Moreno, Director of UN-Habitat Research and Capacity Development.
In this meeting, it was agreed that ICL select the first pilot for the Greener Cities Partnership so that ICL can cooperate with UN-Habitat in this regard. Greener Cities Partnership is a joint program by UNEP and UN-Habitat. It is in alignment with SDG framework.
In 2015, all UN member states adopted the 2030 Agenda for Sustainable Development which includes 17 Sustainable Goals. They are designed to help states to achieve a better and more sustainable future for all. They chiefly address major global challenges as to poverty, inequality, climate, environmental degradation, prosperity, and peace and justice.
27 JULY 2016: ROUND-TABLE HELD ON MUNICIPAL FINANCE
A round-table discussion on municipal finance attended by both government officials and subject matter experts were held in the Munk School of Global Affairs in the University of Toronto. Click here to read more. Click here to read the coverage in UN-Habitat Website.
5 JULY 2016: MUNICIPAL FINANCE EVENT CONCLUDED
The Municipal Finance and Urban Economy Conference in Geneva was concluded with a crucial agreement setting the stage for a major breakthrough in financing urban sustainability projects. Click here to read more.
5 JULY 2016: WORLD CITIES REPORT 2016 LAUNCHED IN EU
On July 5th, UN-Habitat and International City Leaders hosted the European launch of the World Cities Report 2016 at the UN Headquarters, Palais des Nations, Geneva. Click here to read the UN-Habitat Press release.
M.Arch. Reza Pourvaziry, President of ICL delivers video statement during Expert Group Meeting on Monitoring SDG Goal 11 indicators. Click here to read about the meeting and full excerpts of the statement.
A milestone document, that will help in the establishment of the New Urban Agenda later this year in the most anticipated urban sustainability event over two decades, was successfully launched in Ford Foundation, New York city on May 18 with the support of International City Leaders. Click here to read more
18 MAY 2016: WCR 2016 TO BE LAUNCHED
International City Leaders and UN-Habitat jointly launch The World Cities Report 2016 - Urbanization and Development: Emerging Futures at the Ford Foundation, New York, on May 18th 2016. Please click here to read more.
18 APRIL 2016: UN-HABITAT weBsite FEATURES TORONTO EVENT
UN-Habitat website featured a summary of Roundtable discussion that was held in Toronto earlier this month on Sustainable Development Goals (SDGs) and City Prosperity Initiative stressing the importance of this regional event in the UN agency's agenda. Click here to read the story.
05 April 2016: Roundtable Discussion on SDG and CPI, Toronto
A four hour roundtable discussion on Sustainable Development Goals: From Theory to Practice was held in Toronto and hosted by International City Leaders (ICL) and the International Centre for Urban Management (INCFUM), supported by UN-Habitat and UNDP. Click here for full report.
29 June-02 July 2015: second egm on global cities report
The second Expert Group Meeting on World Cities Report was held in UN Headquarters in New York. Click here for full Report.
April 2015: un-habitat governing council AND PREPCOM
ICL participated in UN-Habitat governing council & exhibition and the first prep committee on highly anticipated Habitat III Conference due to be held in Oct. 2016 in Quito, Ecuador
sep. 2014: first egm world cities report, toronto
ICL and UN-Habitat jointly organized first Expert Group Meeting on World Cities Report in Toronto, Canada. Click here for detailed report.
nOV. 2014: ICL SIGNS KEY AGREEMENT WITH UN-HABITAT